This morning I read that the novelist and Nobel laureate, V. S. Naipaul, died yesterday at his London home. His death occurred just a few days before his 86th birthday. Although a native of Trinidad, Naipaul was of Indian descent, hence his full name:

Vidiadhar Surajprasad Naipaul. To his few close friends and acquaintances he was simply "Vidia," a blessing to those with Western tongues. Awarded a government scholarship in 1950, he left Trinidad to study at Oxford and thus began the career of this exceptional man of letters.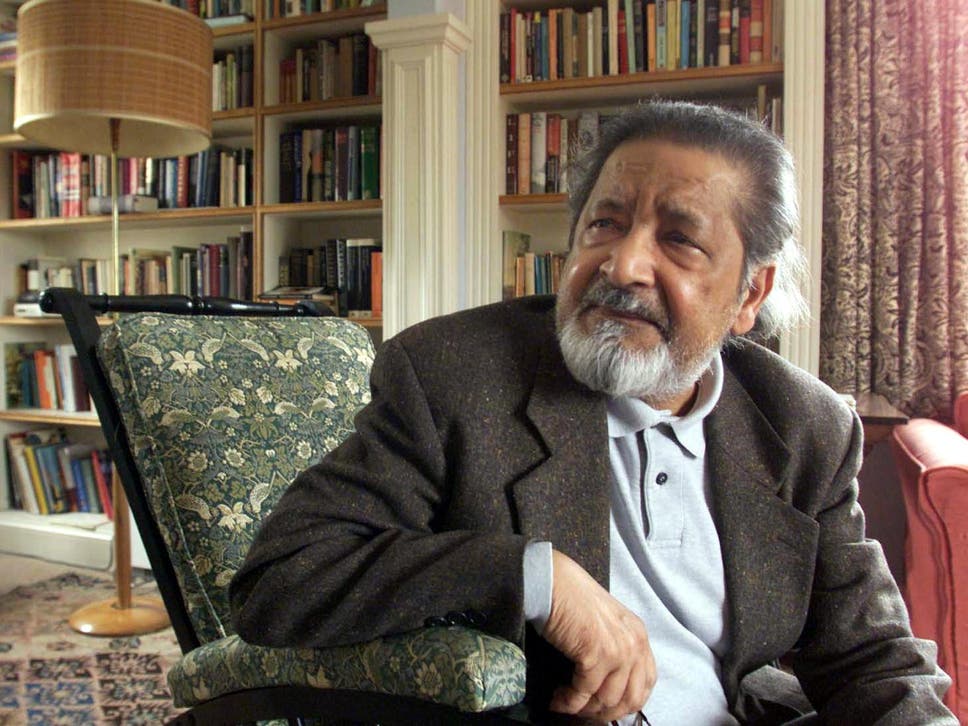 V. S. Naipaul
I first read Naipaul in 1979 when I picked up a copy of his newly published novel, A Bend in the River. I had heard of him, but had never read his work, just a few reviews. But the opinions of the critics were so varied and confusing I decided to sample his work and find out for myself. As I read the opening words of the novel -- "The world is what it is; men who are nothing, who allow themselves to become nothing, have no place in it." -- I was hooked. Those words, although politically incorrect to many, for me had the ring of worldly truth. Yes, indeed, despite our personal hopes and dreams, "the world is what it is," and Naipaul spent his literary life describing his take on that reality to his readers.
Although I'm not a Naipaul fanatic, I 've probably read a dozen or more of his books, and enjoyed every one of them. But
Naipaul was more than a novelist, and wrote a number of fascinating books describing the places, people, and cultures he encountered during his extensive travels. His observations, opinions
, and conclusions often surprise, and sometimes irritate, but always force me to examine my own attitudes and judgments. Some critics, of course, objected to his cultural characterizations and plastered him with negative labels, apparently hoping that some might stick. He's been called a racist, a misogynist, an Islamophobe, a Hindu nationalist, and more...I've always thought of him as a man who told the truth as he saw it. Can we ask anything more of a writer than this?
If you haven't read Naipaul, by all means do so. I especially enjoyed his semi-biographical novel, The Enigma of Arrival, as well as his much earlier work, A House for Mr. Biswas. Among his non-fiction works, I suppose my favorites include
Among the Believers: An Islamic Journey; The Middle Passage; and A Turn in the South.
My bookshelves house 10 volumes of Naipaul's works and, coincidentally, they reside on the same small shelf with about a dozen of Evelyn Waugh's books. Despite their widely varied backgrounds, the two men had much in common. Each could be included among the best writers of his time. Each wrote wonderful novels, often based on his own life experiences. And each wrote exceptional works of non-fiction describing his travels in culturally distant lands.
Interestingly, both Waugh and Naipaul have also been described as personally irascible, as curmudgeons with few close friends. I can't and won't judge another based on his personality, assuming that what we see of another is rarely an accurate reflection of his true self. Anyway, I would much rather have a handful of close friends who accept me for who I am, than be surrounded by a flock of chirping, faithless acquaintances who come and go with the seasons.
Religiously the two men were far apart. Although Naipaul often criticized the religious values held by many today, particularly among those who practice Islam, I don't know if he were a man of faith. One can certainly be personally unpleasant and still be an active believer. After all we are all sinners. Evelyn Waugh, of course, was a convert to Catholicism. Once, when asked how he could justify his nasty disposition with his Catholic faith, Waugh replied,
"
You have no idea how much nastier I would be if I were not a Catholic. Without supernatural aid I would hardly be a human being.
" Waugh, too, was a man who spoke the truth as he saw it.
Rest in peace, Vidia, and thank you for your work that caused so many to reexamine the world in which we live. May God shine His face upon you...